Flickr Inspiration – 5 Cool Home Office Spaces
Looking for a little office inspiration? Check out these five cool home office spaces we found on Flickr. If you are interested in sharing your office space photos, by all means, post something in the forums. Be an outlaw, start the thread!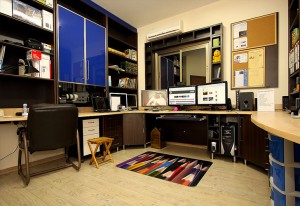 This office space from Rasheed is going to be one of the few that doesn't bluntly showcase a plethora of Ikea products. Big spaces and lots of color make this office fun.[sws_divider_line]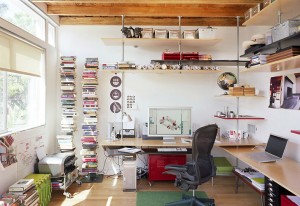 This is my personal favorite in todays collection. I actually saw this office in an issue of Dwell a while back and fell in love with it. The project includes: grey water recycling, storm water capture, recycled coal fly ash concrete, solar energy, recycled lumber, passive cooling, thermal rock wall, and mobile shade panels. via Jeremy Levine Design
[sws_divider_line]

I could be wrong, ut I think almost this entire office was purchased at Ikea. It almost looks like Vincent just pointed a picture in the Ikea catalog and said,"I want that one." Still looks great none the less!
[sws_divider_line]

This picture of Davids office doesn't really do it justice. It sports some really cool textures on the walls. That dark wood panel wall is amazing.
[sws_divider_line]

Jake, hands down, has the biggest desk I have ever seen. that thing goes on for miles! I thought my old desk was huge, but this is insane! Plenty of workspace though, which is always a good thing.