28 Ways to Customize Your Mac Desktop
Yesterdays edition of my Mac Week special showcased some cool and clever customized Mac desktops. As I had anticipated, I had a ton of questions about how to customize your Mac desktop in such a manner. So, I quickly got to work on this post that is full of tutorials, apps, and widgets that will let you customize your Mac desktop to your hearts content.
I feel it is worth pointing out that a majority of the really customized desktops are done with a program called GeekTool which you will see later on down the list. All of the tweaks that involve the use of GeekTools have a "GT" beside their title just to help keep things a bit more organized. If you know any other cool apps, scripts, or customization tips, please share them in the comments!
1. Shapeshifter
ShapeShifter is a revolutionary new product that lets you change the overall appearance of your Mac using 'themes'. We're not talking about just desktop backgrounds and icons here, we're talking about everything – the look of windows, menus, apps, buttons, absolutely everything.
---
2. Backlight
BackLight provides a menu extra (really an NSStatusItem, which are fully supported in Jaguar) that allows you to turn your screensaver on and off as your desktop background. It can also change your screensaver and open the preferences. Having your screensaver on your desktop is quite a cool effect, but you should probably have a Quartz Extreme-capable machine if you want to handle the load.
---
3. Serene Saver
My Living Desktop brings a whole new dimension to your computing experience by turning your Mac's desktop into a beautiful, moving environment…. even complete with soothing sounds. My Living Desktop provides a wide array of stunning, relaxing high definition video scenes you can use on your desktop. You can even import your own movie segments to create a truly personal and unique desktop environment.
---
[sws_grey_box box_size="728"]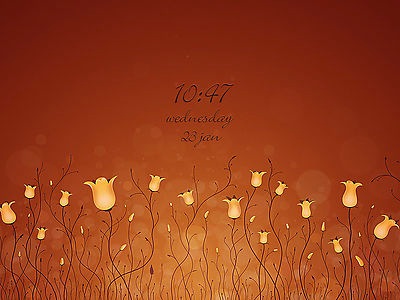 [/sws_grey_box]
4. Wallpaper Clocks
Vladstudio and Softshape Development proudly introduce Wallpaper Clocks – desktop wallpaper which refreshes every minute to keep your time and date precise as well as stylish in many artistic ways!
Visit Website


---
[sws_grey_box box_size="728"]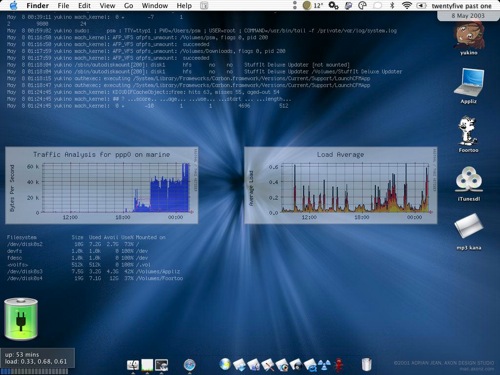 [/sws_grey_box]
5. GeekTool
GeekTool is a PrefPane (System Preferences module) for Mac OS 10.6. It let you display on your desktop different kind of informations, provided 3 default plugins :File plugin to monitor MacOS X activity with /var/log/system.log, or any file that you want to follow.Shell mode to launch custom scripts or commands like "df" to check space left on filesystems, "uptime" to monitor load of your machine… Finally, Image mode helps you monitor bandwith usage, CPU loads, memory availability of your server, via tools like MRTG
Visit Website


---
[sws_grey_box box_size="728"]

[/sws_grey_box]
6. Alarm Clock
Wake up to any song, playlist or podcast in your iTunes library! Wake up peacefully with "easy wake" – a configurable option that slowly increases the volume of your alarm over time. Can wake your computer from sleep.
Visit Website


---
[sws_grey_box box_size="728"]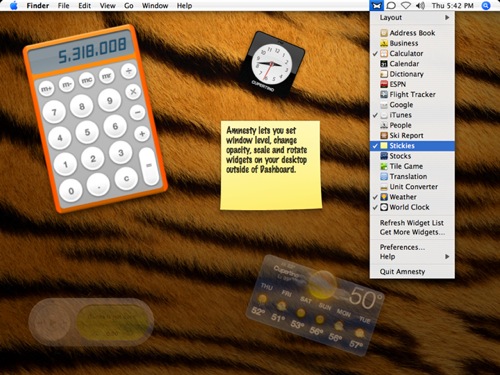 [/sws_grey_box]
7. Amnesty Widget Browser
Enjoy the convenience of running Dashboard widgets directly on your desktop, with the management features and control settings you need to get the most out of your widgets.
Visit Website


---
[sws_grey_box box_size="728"]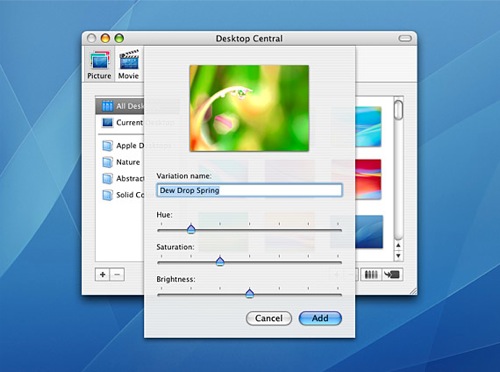 [/sws_grey_box]
8. Desk Shade
DeskShade cures boring and cluttered desktops. Why bother with a desktop picture when it's covered by ugly icons? Are you happy with a static background? Download Now and get one step closer to desktop nirvana.
Visit Website


---
[sws_grey_box box_size="728"]

[/sws_grey_box]
9. Synergy
Synergy is a tiny Cocoa application for Mac OS X that puts three buttons to control iTunes in your menubar: previous track, next track, and play/pause; as well as providing you with visual feedback about the currently playing tune. Synergy can even automatically download and display the cover of the currently playing album.
Visit Website


---
[sws_grey_box box_size="728"]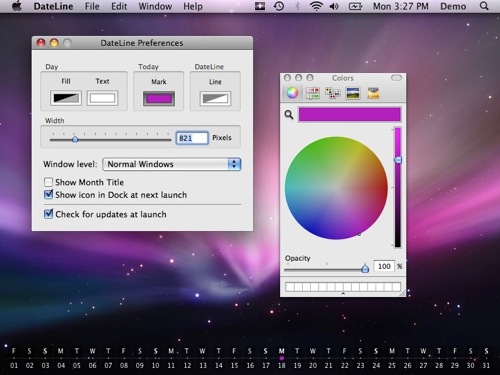 [/sws_grey_box]
10. Date Line
DateLine displays a linear calendar on your Mac desktop which provides easy access to iCal and your events. The appearance of the DateLine is endlessly customizable and themeable.
Visit Website


---